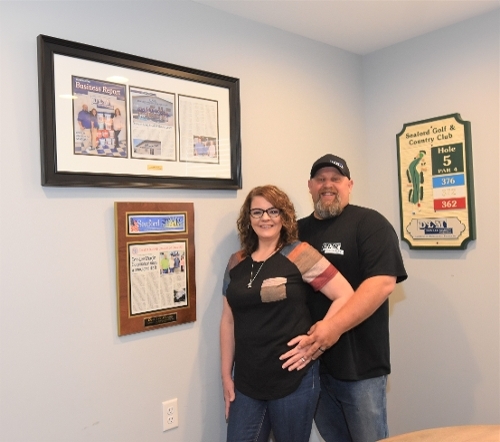 Jack & Crystal Chambers
Email: info@don-leemargin.com
We have been married for 16+ years and lived in the Seaford area for most of that time. We've raised 4 daughters and one son here locally. We now enjoy our ever-growing family with our 6 grandkids and 2 pets. We enjoy the beaches and the community here on the Eastern Shore. We also love to travel and see new things. We left here for a brief 5 months only to realize nothing feels like home.
Upon return, we gained jobs with a fast-paced and developing Don-Lee Margin Corporation where we managed staff, jobs, and warehousing for over 12+ years. We left briefly to establish a small similar business on our own and are now back to where we started as owners. Jack currently oversees the operations and finances at both companies. Crystal currently is the HR/Payroll and accounts receivable/payable manager at both companies as well.
We look forward to continuing the changes that were in place when we managed Don-Lee Margin. We have a combined 25+ years of knowledge in Janitorial, Maintenance & Products business. Our goals are to set the standard for the Janitorial revolving and one-time services in our area and to continue to grow our Maintenance department. We plan to create a sales experience for other local businesses to depend on. Our main goal is to have Sales, Janitorial and Maintenance standards that well exceed all competition, but staying in the small business familiar customer service realm. We look forward to serving the Delmarva peninsula and beyond.